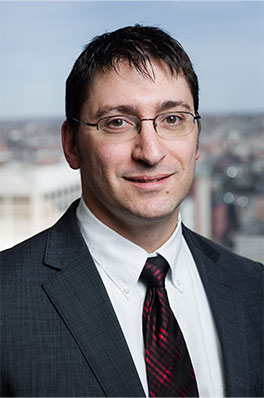 Anthony D'Elia
MEMBER, COMMERCIAL REAL ESTATE LAW &
ECONOMIC DEVELOPMENT LAW
Tony practices extensively in business law, commercial real estate & development, title examination, commercial leasing for local and national retailers, shopping center leasing, office leasing, medical office leasing, commercial and warehouse leasing and knows the many unique difficulties presented to either a landlord or a tenant. Tony works to understand the needs and perspective of each party, allowing him to resolve potentially contentious issues quickly and amicably.
Tony has represented developers and banks in a variety of different projects built around tax credit and other economic development incentives. Tony has recently worked on low income housing tax credit projects, historic tax credit projects, brownfield tax credit projects and preservation easements. Tony understand the issues that such a project can face and proactively anticipates how to structure deals to avoid those issues and costly delays.
Tony's involvement in projects runs from the beginning to completion and includes structuring and creating a business entity for real property investment, assisting with the offering plan, negotiating the purchase of the real estate, reviewing leases for the building, preparing business pro-forma, negotiating any investor agreements, and negotiating the terms of the complex securitized loan.
Tony works with clients to identify business opportunities and to capitalize on those opportunities. Again, Tony works with his clients from the inception of an idea to completion, negotiating of the purchase contract, arranging favorable financing, analyzing and resolving any potential zoning issues and reviewing leases and revenue streams.
Tony's contacts throughout the real estate industry, including the financing, leasing and real estate brokerage, insurance, construction industries and his experience with zoning and land use professionals help enable his clients to realize their visions.